Welcome to summer in Kentville! 
Have questions about summer programming? Contact our Summer Recreation Manager, Sara D'Arcy at summerrec@kentville.ca or at 902-599-0965. 
              ↓↓↓↓↓↓↓↓↓
Swimming lessons, AquaGo and AquaFit registration opens on Wednesday May 31st at 9am. For more information on these programs and other swims and programs happening at the Kentville Memorial Pool this summer, CLICK HERE! 
If you are unsure of what of what level to register for, please refer to our Swimming Level Descriptions document. 
K-Town Adventure Krew - Ages 4-11 - Registration for July dates opens May 15, 2023 at 9am. Register here!
August registration will open on Monday June 12th at 9am. Register here!
$125/week or $35/day for July 4-28th. No single day options July 31 - August 25, $125/week. Please note there is no program on July 3, 27, 28 and August 7

Kentville Little Explorers - Ages 6-11 - Registration opens Monday May 15th, 2023 at 9am. Register here!
$100 for the 3-day camp. Available July 26-28 and August 21-23

Kentville Youth Questers - Ages 11-15 - Register for the application process on Monday May 15th at 9am
Registrants will receive a copy of the application form within 2-3 business days. Youth must apply with a community project idea that aligns within the themes listed above.
$130/camp. Available July 4-7 and August 1-4. 

This summer we will be offering a lunch program for our K-Town Adventure Krew, Little Explorers and Youth Questers programs through T.A.N. The program is $10.00 a day!
*Please note that we are unable to accommodate any allergies, dietary restrictions, or preferences. The menu will be the same for each week of camp as follows: See menu below: 
Tennis lessons are now available at the Kentville Tennis/Pickleball courts! Registration will open in May 15th, 2023 at 9am. Register here!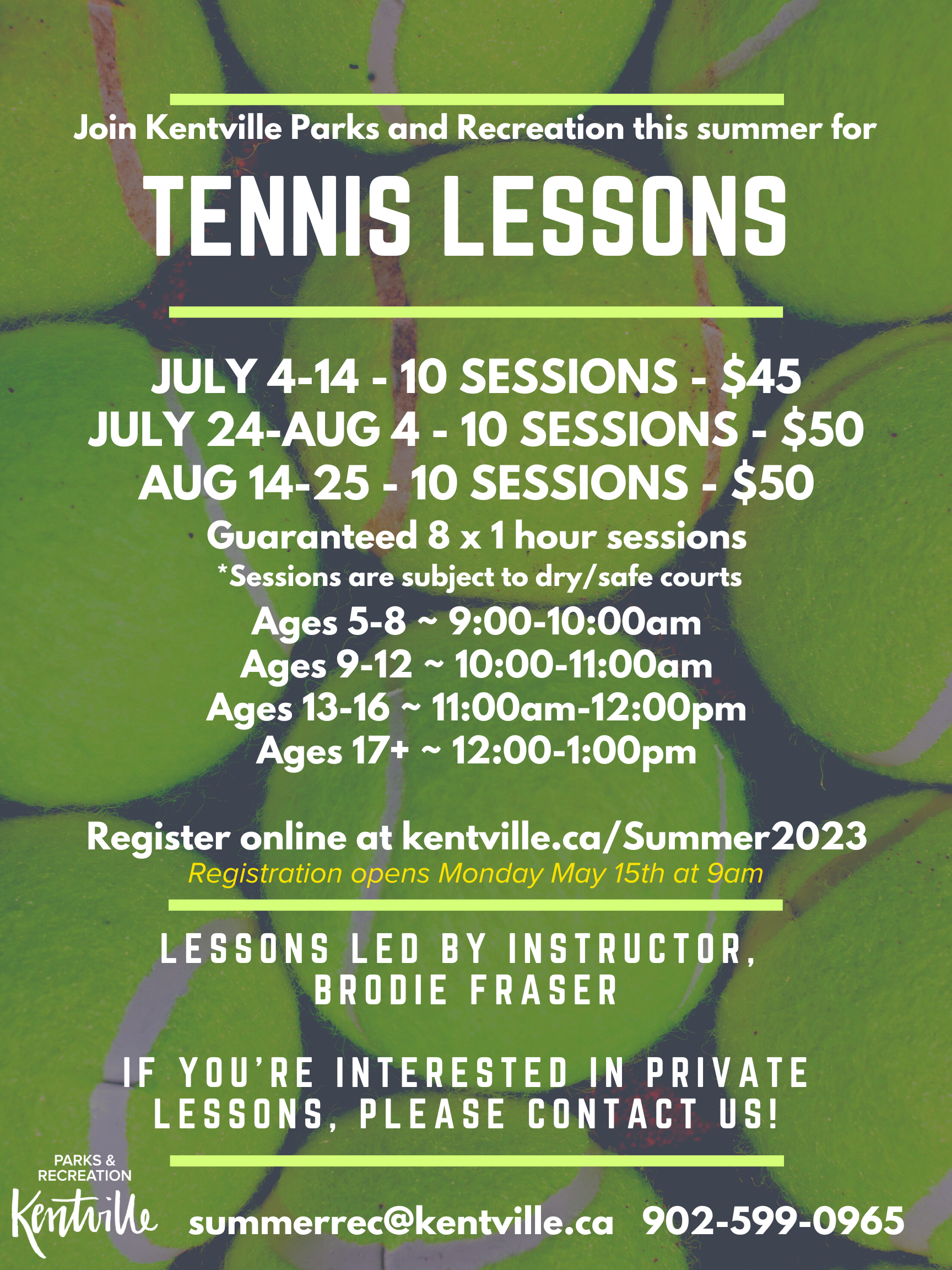 Youth Tennis Camp will be returning in 2023! Registration will open in May 15, 2023 at 9am. Register here!
Ages 10-15 - 9am-12pm - Available July 17-21 ($70) and August 8-11 ($55)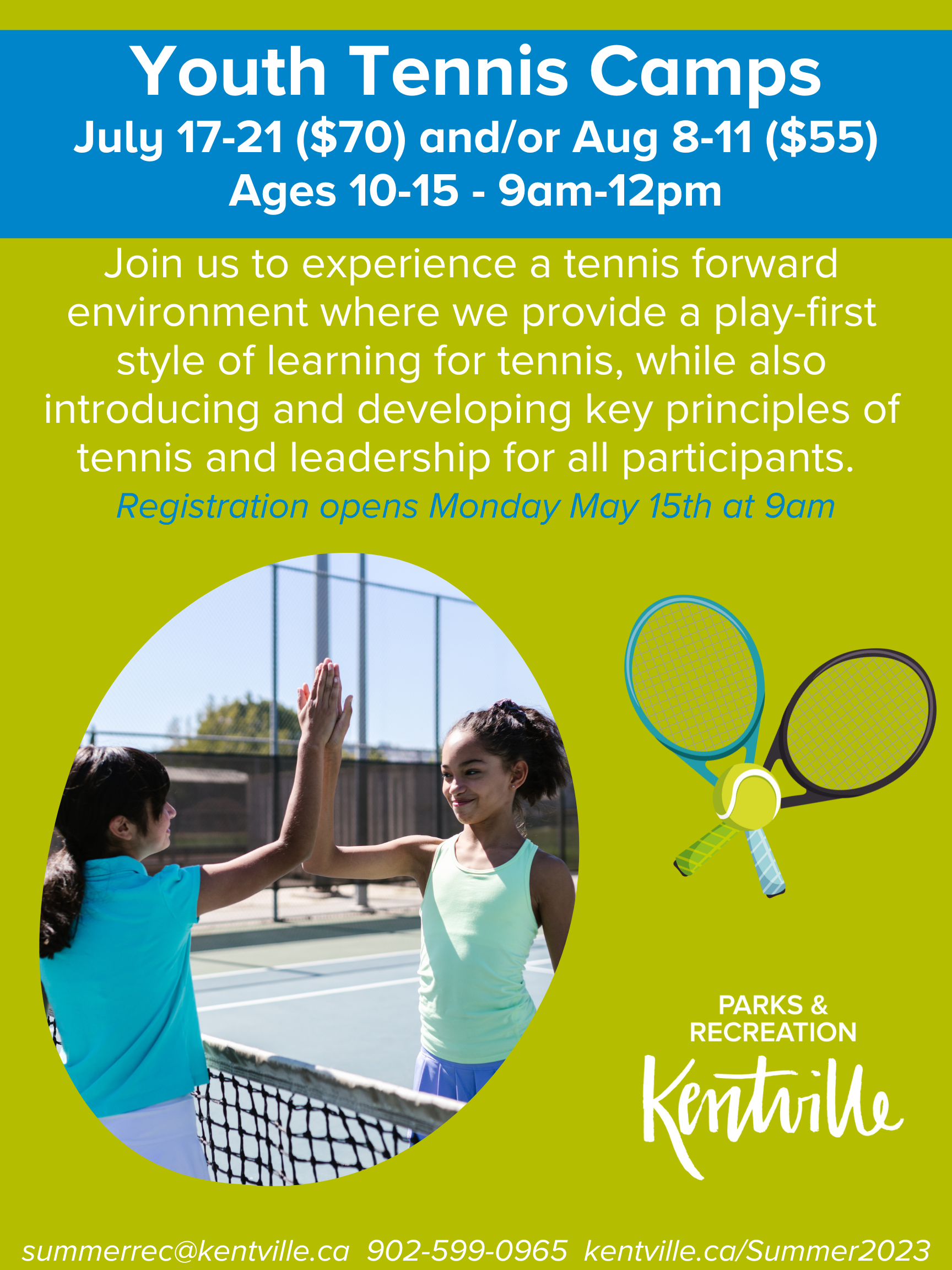 Kentville Tennis/Pickleball Court Schedule - Summer 2023
Tennis and Pickleball programs will be starting throughout June! Buy your pass today at Kentville Town Hall, 354 Main Street.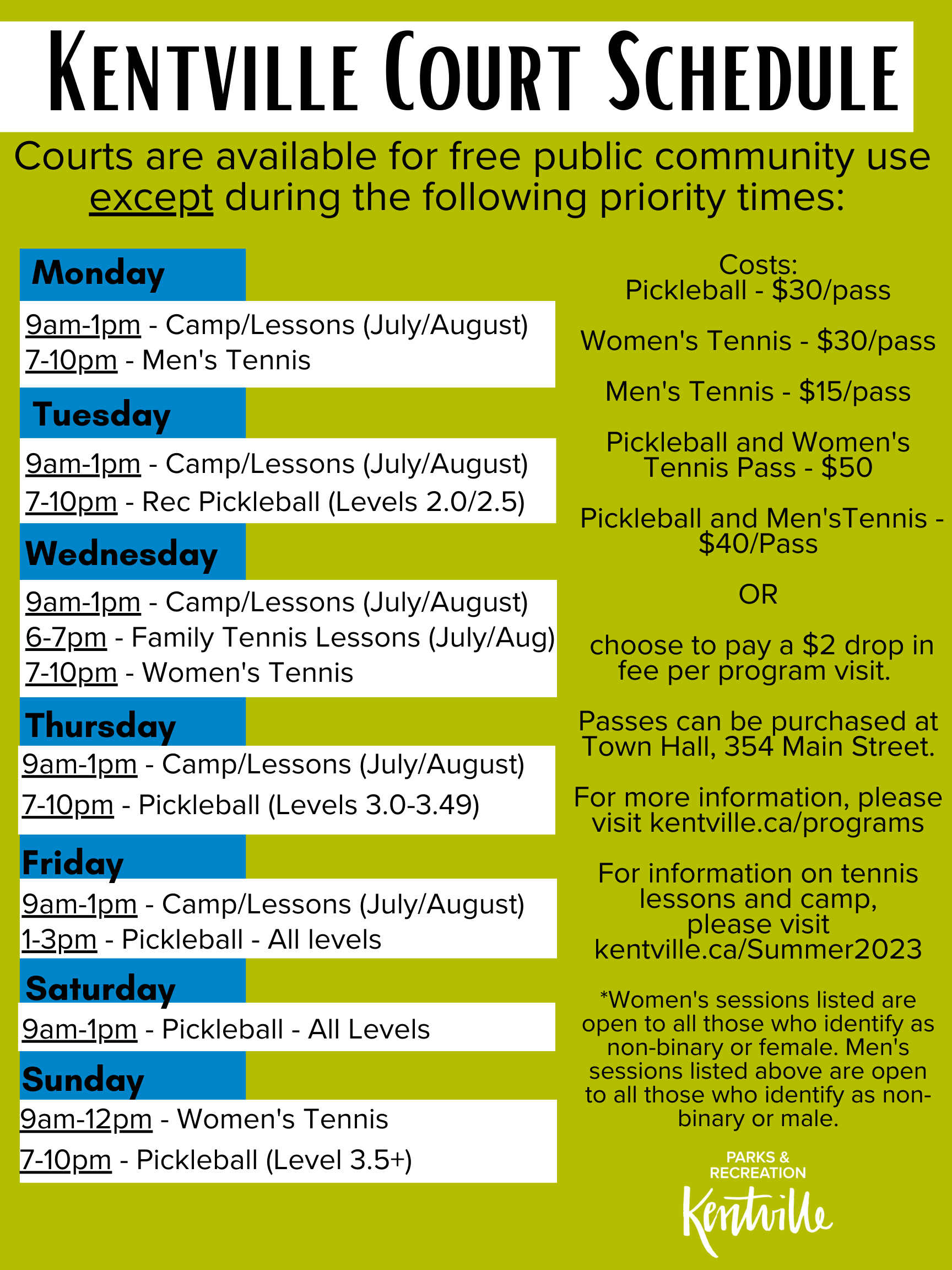 The best way to stay informed of new programs, registration dates and upcoming events, is to sign up for our Rec Text! For more information on Rec Text, CLICK HERE!
Things to do this summer:
Get Outside!
Getting out in nature is one of the best ways to help reduce stress and get some exercise to boot! There's an amazing variety of trails in Kentville, from challenging mountain bike terrain at the Gorge to easily traveled active transportation routes along the Harvest Moon Trail. Have you been to Miners Marsh lately to see the amazing ecosystem that changes daily? And of course, the Kentville Ravine where we challenge you to find the dragon's den and hike all the way to the waterfall. Come check it out for yourself!
*Supporting mobility issues: If you have mobility challenges, Miners Marsh and the Harvest Moon are your best option. Both with hard packed surfaces and wide trails. There is plenty of shade on the Harvest Moon Trail, especially on the East End of the trail. As well, benches are generally distance about 800m meters apart to allow for lots of rest stops along the way.
Free outdoor activities to enjoy with your family:
Miners Marsh and Ravine Story resources,
Geocaching
Playing Tennis or Pickleball on the local courts,
Practicing your batting skills at the Memorial Park Batting Cage
Kick the ball around on our fields
Shoot some hoops on one of our outdoor basketball courts.
Come on out for bird watching (you can borrow binoculars from us!), connecting with nature, picnicking, and simply playing.
*All facility users must obey the posted Covid-19 rules and restrictions. For more information please visit our website, or call us at 902-679-2539.
Guidelines and tips
To help you discover all the parks and trails in town, Kentville has installed special blue signage to point the way. Maps are located at each park and trail head, and on the individual webpages.
All trails in Kentville are shared use and open to all forms of non-motorized active transportation (walking, biking, scootering, skateboarding, snowshoeing, cross country skiing, etc). For the safety of trail users and to preserve the quality of our trails, motorized vehicles (except for mobility aids such as motorized wheelchairs or scooters) are prohibited on all Kentville trails.
Leashed dogs are allowed in all parks and on all trails. Owners are required to clean up after their pets and many of our parks and trails have pet waste stations with bags.