Kentville is proud of the transparency with which town business is conducted. Any resident who wants to be up-to-date on town business can easily stay in touch. Whether you need by-law information, council meeting minutes, or want to chat with your councillor, you'll find all Kentville business information right here.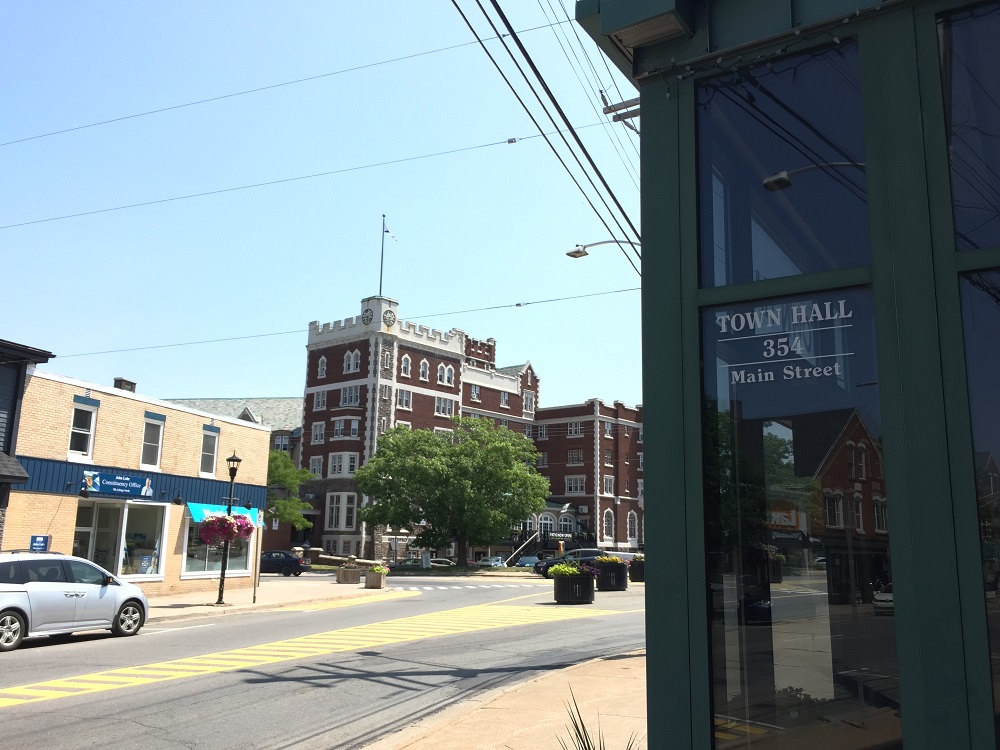 Over a century of Kentville Town Hall history
1887:The offices for the Town Hall were leased for the rental of seventy-five dollars per year.
1896:The town conducted its business in the Chipman Building on Main Street, near the present Town Hall.
1946:The town purchased property from the Salvation Army for the purpose of constructing a new Town Hall and Fire Station.
1953:The town office took up quarters in the new Town Hall, moving from temporary offices at the Cornwallis Inn.
1989: The new Town Hall was joined to the old Maritime Tel & Tel building in a ten-month renovation project.
1990: The grand opening of the Town Hall was held, on September 28.
List of Kentville Mayors:
John King  1887-1888
J.P. Chipman  1889-1890
Dr. H.B. Webster  1891-1892
B.H. Dodge  1893
J.W. Ryan  1894-1895
R.S. Masters  1896-1897
G.F. Rockwell  1898-1899
WM. Yould  1900-1902
W.F. Roscoe  1904-1907
Dr. H.B. Webster 1908-1909
H.H. Wickwire  1910-1911
Wm. Yould  1912
J.W. Ryan  1913-1914
F.A. Masters  1915
A.L. Pelton  1916-1917
J.H. Yould  1918-1919
W. Saxby Blair  1920
A.L. Pelton  1921
A.E.H. Chelsey  1922-1924
A.L. Pelton  1925-1927
Raymond Crosby  1928-1931
G.W. Lyons  1932-1935
B.W. Roscoe  1936-1945
Gladys M. Porter  1946-1949
R.W. Rottler  1950-1953
Gladys M. Porter  1954-1960
G.L. Calkin  1961-1963
H.C. Lindsay  1964-1966
C.R.G. Lowe  1967
F.H Ripley  1968-1973
R. Wendell Phinney  1974-1988
Dorine P. Taylor  1988-1994
R. Art Pope  1994-1997
Gary P. Pearl  1997-2005
David Corkum  2006-2016
Sandra Snow  2016-