Kentville Inclusion and Access Advisory Committee
On May 31, 2021, Kentville Town Council adopted the Town's first accessibility plan which will see public buildings, parks, trails, and sidewalks as well as communication, and digital content, become fully accessible by 2030.  Currently the Town is seeking volunteers to sit on the Kentville Inclusion and Access Advisory Committee, which provides advice to Town Council on the implementation of the Kentville Accessibility Action Plan.   The goal of the KIAAC is to "identify and remove barriers to participation in public life and to the achievement of social, cultural and economic well-being of all people who find themselves in Kentville".  
The committee will be composed of five members of the public and up to two members of Town Council. A majority of the members of the committee will be persons with disabilities as defined by the Accessibility Act of Nova Scotia. Members should reflect the diversity of Kentville's population.  Residents interested in this committee should collectively bring the following skills and expertise:
A strong interest in equity and inclusion of people with disabilities

A strong understanding of the needs and concerns of a broad spectrum of people with disabilities and seniors, gained through personal or professional experience

A strong interest in race relations and addressing issues of racism and intersectionality

A strong interest in truth and reconciliation

Knowledge of accessibility as it relates to one or more areas of: policy and procedure, service planning and delivery, employment, built environment, public spaces and accommodation

Experience in decision-making, communication, citizen advocacy

Availability to participate in meetings scheduled by the committee.
The advisory committee meets six times per year. Meetings times will be decided by the committee and will be based on member availability. The duration of meetings is approximately 2.5 hours. Disability-related accommodation and supports are provided upon request. Notification in advance is required.
If you are interested in joining this committee, please fill out the Committee application form in "Associated Documents", or call Jennifer West at 902-679-2503, or email her at jwest@kentville.ca.  Applications will be accepted until all positions are filled.
"Almost 1 in 3 persons in Nova Scotia has a disability, and each of those persons has friends or caregivers with them when they travel.  This legislation will create a province where individual differences are celebrated and valued and where all persons can participate fully in their communities," said Gerry Post provincial accessibility advocate and Inaugural President of the Accessibility Directorate of Nova Scotia.
Accessibility in Kentville and in Nova Scotia
Imagine a province where our individual differences are celebrated and valued.  A province where persons with disabilities are supported to participate fully in their communities. A place where we recognize that abilities vary, but our capacity to participate is not limited by barriers. A province that thrives because there is equitable opportunity for all Nova Scotians.
Kentville, and all municipalities, are helping to make the entire province of Nova Scotia accessible to everyone!  The province of Nova Scotia has set a goal to become accessible to everyone by the year 2030, and the Town of Kentville is working hard to help reach that goal!
The provincial government is helping towns and counties become more accessible to everyone by preventing and removing barriers in these areas:
Built environment (for example buildings, streets, sidewalks and shared spaces);

Education (for example schools, colleges and universities);

Employment (supporting meaningful and equal access to employment for persons with disabilities);

Transportation (ex. buses, cycling, walking routes, and taxi services);

Information and communication (ex. websites, libraries, braille, large print and sign language services), and

Goods and services (how service providers interact with and are trained to serve persons with disabilities).

Kentville's Accessibility Committee
The Town of Kentville has an Accessibility Advisory Committee of residents, staff and elected officials.  This group meets to talk about a plan for the Town that will dramatically improve accessibility for everyone.  The committee was formed in January 2020 and consists of 6 community members, 2 elected officials and 2 staff persons.
The committee will release Kentville's Accessibility Plan.  This plan was developed with residents' feedback and advice and lived experiences of accessibility.  The plan has recommendations that will improve the following areas:
Built environment;

Education;

Employment;

Transportation;

Information and communication, and

Goods and services.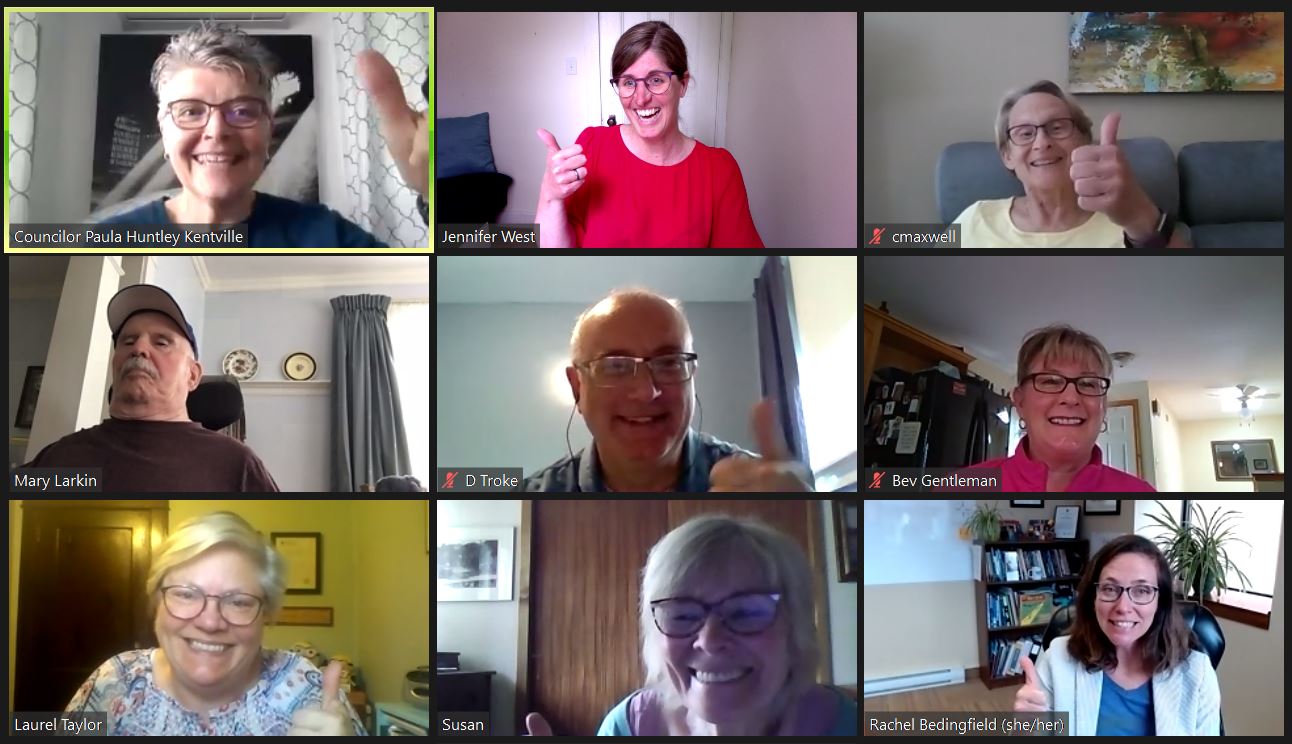 Our Statement of Commitment:
Our vision is for Kentville to be a healthy vibrant integrated and welcoming community where all citizens and visitors can live work and play in an environment that promotes a fulfilling quality of life. We acknowledge that currently there are barriers to achieving this vision.
Through respectful engagement that honors the journeys of people with differing abilities and experiences, and through measurable outcomes that focus on equity, we will hold ourselves accountable to the Nova Scotia Accessibility Act.  Kentville's accessibility plan will guide the town in meeting the needs of all people who face barriers when accessing all that Kentville has to offer.
Kentville is a town committed to fairness, kindness, dignity and independence.
Want to learn more?
Read the Related Documents!  Share our Facebook posts and website articles!  Participate in our public events and help us reach our goals!
Videos:
Websites:
July 24, 2020, there was a beautiful ceremony for the ground breaking of Ryan's Pocket Park in Kentville.  Please check out this website to learn more about this amazing housing project!  ryanspark.ca
July 23, 2020, the Kentville Accessibility Advisory Committee met with guest speaker Cynthia Bruce to discuss Accessibility in the Community.  Please check out this YouTube recording of her talk!  https://www.youtube.com/watch?v=m4YB-IBSQXs