Kentville Accessibility Committee
The Town of Kentville wants to become a more accessible and inclusive place for everyone to live, learn, play, and work.
reachAbility Association has partnered with houdinidesign ARCHITECTS to create an accessibility action plan that will align Kentville with the province's Access by Design 2030: Achieving an Accessible Nova Scotia plan.
Whether you identify as a person with a disability or love someone who does, you can help shape the town's action plan. There's different ways to participate, so choose the way(s) that's right for you, and share you stories, experiences, and ideas that will get Kentville Moving Accessibility Forward.
Please visit click here to give your input TODAY on how to make Kentville a more accessible and inclusive place for everyone to live, learn, play, and work.
Please click here to go directly to the online survey!
July 24, 2020, there was a beautiful ceremony for the ground breaking of Ryan's Pocket Park in Kentville.  Please check out this CBC news item about the event and this development!  https://www.cbc.ca/player/play/1767843395706  (starts at 33:50)
July 23, 2020, the Kentville Accessibility Advisory Committee met with guest speaker Cynthia Bruce to discuss Accessibility in the Community.  Please check out this YouTube recording of her talk!  
July 17, 2020, the Town of Kentville releases their Request for Proposals for a consultant to help develop the Town's accessibility Plan!  Visit our procurement page to read this document.  https://kentville.ca/town-hall/tenders-and-procurements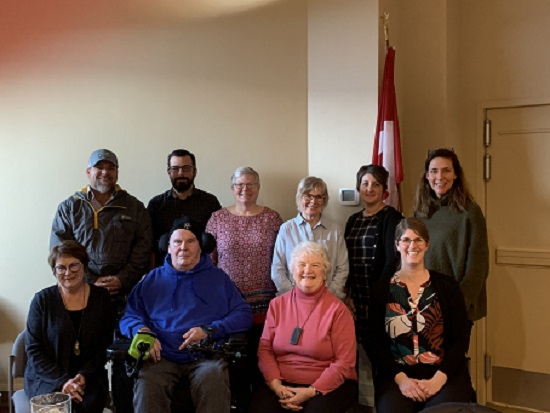 Members of the Kentville Accessibility Committee: (back row L-R) Councillor John Andrew, Robert Giles, Laurel Taylor, Susan Harvie, Cheryl Lake, Rachel Bedingfield, (front row L-R) Councillor Lynn Pulsifer, Lamont Larkin, Mary Larkin and Jennifer West.